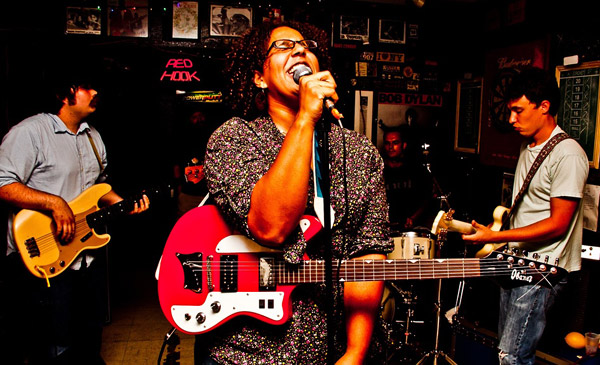 "Revival Rock"
is a term that has become so prominent in modern rock music that it is almost nauseating; swallowing up bands whole, as many listeners turn away from past mistakes they've made in admiring bands that succumb to the pressure of staying "true to one's roots." (We don't need to name names here, but many of these bands then either fizzle out or transgress into a mainstream abomination.)
The quartet
Alabama Shakes
(formed in 2009 in Athens, Alabama) have hardly been a secret in the past six months, generating a healthy amount of positive feedback after releasing a four-song EP last fall, leading up to April's release of
Boys & Girls
(via ATO Records)
.
The group boasts a familiar blend of southern rock music, with a twist of soul, blues, and gospel.
As a whole,
Boys & Girls
is one of the most fulfilling albums I've heard all year. Leading off with the group's first single "Hold On," the song illuminates as only a taste of what's to come from Alabama Shakes' debut album. The guitar riff is undeniably catchy, and Brittany Howard's voice glistens with a genuine and rich affluence of soul.
"I Found You" is next, and the song makes clear what kind of influence is found within Alabama Shakes' music. The beautiful organ part featured in the song touches on a hint of gospel, and Howard's scat section of the song brings up a reminiscence of Janis Joplin.
To be honest, I'm surprised the group (or label) decided to go with "Hold On" as a lead single. Not because it's a bad song, but mainly due to the fact the album is littered with great music. "Hang Loose" "Rise To The Sun" and "I Ain't the Same" are all gems of upbeat, southern, rock with enough soul to spare. Brittany Howard's vocals and lyrics are all equally matched by fantastic backing music that entices the ears, and leaves the listener far from bored.
In fact, unlike many of the group's musical peers, Alabama Shakes do an amazing job making sure Howard doesn't steal the spotlight with her vocal chops; Heath Fogg (guitars), Zac Cockrell (bass), and Steve Johnson (drums) each do a great job at blending each others' strengths to coalesce into a great ensemble.
It's
Boys & Girls
' slower tracks that the group dabbles in to soul and blues territories, "You Ain't Alone", "Heartbreaker", and the title track, "Boys And Girls", are all beautiful songs as well. Alabama Shakes actually remind me a lot of what The White Stripes did best: create genuine music with genuine feeling behind it (Howard's voice also dabbles into Jack White territory here and on many songs, thus eliciting a comparison).
Much like The White Stripes, Alabama Shakes have made themselves comfortable performing such a stellar amalgam of genres of rock 'n' roll; it's not often that a band with an African American female lead singer can create music that transcends notions of ethnicity and gender, not to mention era.
Boys & Girls
demonstrates that Alabama Shakes, standing solely on one album, have found themselves completely comfortable with their musical roots, and the group does not seem like they are ready to forget about them anytime soon.
My Rating: 4.2/5
Alabama Shakes is playing this Saturday, March 10, at The Pabst Theater in Milwaukee, WI. Check out more tour dates here.